Go Back
Vurvey Launches New AI Tools for Consumer Insights and Market Research Teams
Having quick access to impactful insights can be game-changing for your work. We're excited to announce new AI-powered enhancements to Vurvey that will significantly accelerate your ability to gain meaningful insights from consumer data and videos. These features were showcased at Google Next, helping pioneer new tools for market researchers and brand innovators.
Automate Video Feedback Captions with Support for Multiple Languages
Vurvey saves you time with auto-transcribing and adding text captions to all of your consumer videos, even with support for global languages. These captions help improve the overall user experience as you are scaling out your insight campaigns.
Generate Consumer Video Highlight Reels with AI Magic Reels
Magic Reels automatically generates video highlights of relevant consumer stories based on the question asked. The AI is trained to comb through all videos to pull together the most insightful clips. This is helpful to summarize what many people talked about and quickly validate your hypotheses.
Visualize Primary Topics from Video Transcription with Natural Language Processing
Topics use natural language processing to analyze transcripts and quantify the most discussed topics in your video data. The AI will produce a radial chart visualization, organized by positive/negative sentiment, to show the frequency and relationships between key themes being discussed.
Identify Key Takeaways from Large UGC (User Generated Content) Data Sets with AI Summaries
User Generated Content is great, but how do you sort through it all easily? Say you were asking people a question related to what they like on a sandwich, and 89% of people said they like "Peanut Butter" … but why? Vurvey saves time by connecting both data sets together to automatically surface the most important consumer rationale in videos tied to a survey question.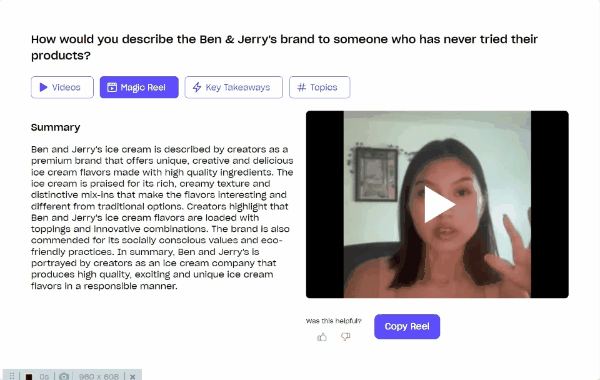 Turn Hours of Consumer Video Feedback into Useful Research Documents in Seconds
With the combination of Vurvey's patented video survey format and integrated AI tools, you can generate insight outputs that highlight overall themes, pros/cons, and even new ideas. Summaries use Vurvey's AI trained persona to understand your research objectives and highlight the most important information. Add, edit, or delete content to align closer to your goals and share with your team.
Vurvey Roadmap (What's Coming Next)
Over the next few weeks, new features will be launching to help you personalize your AI, from using specific models to generating insight outputs based on your brand or business need. Here's what to expect next:
1. Manage your AI models
2. Upload your files to create private datasets for analysis
3. Generate outputs based on your personas and needs
Related Resources